Meet the Team
Qualified experts ready to assist
Charles
– Operations Coordinator
Charles is tasked with answering the phones, emails, and assisting walk-in clients in our offices. Even with averaging over 100 incoming phone calls a day, he still has time to assist clients remotely, manage our techs' schedules, & accept incoming work orders. Don't be fooled-Charles is much more than an office manager. He's also well-versed in the technical aspects of everything we do, which means he can answer many of your inquiries himself without transferring you or making you sit on hold.
Christian
– Principal & Founder
When Christian was 19 years old, he started a part-time computer business out of his basement apartment. Almost 20 years later, he's still working overtime leading one of the most talented IT groups in the region. Christian has been featured on CBS, NBC, and FOX as a recognized authority in IT administration and cybersecurity. A product of working-class Northwest Detroit, Christian knows firsthand what it's like to live and work within a budget while still producing results.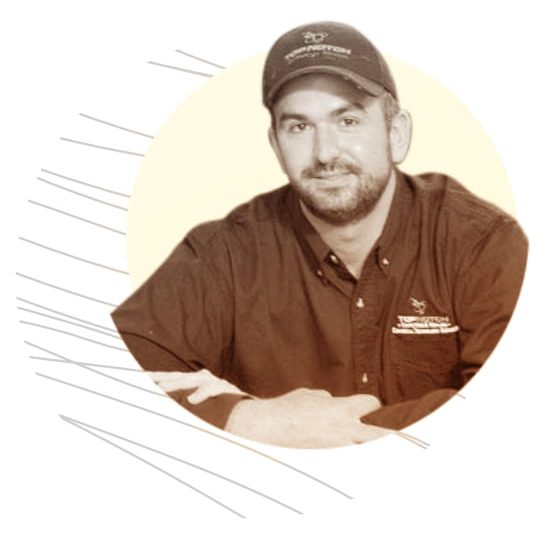 Dale
– Repair & Remote Tech
Dale brings with him years of hardware & helpdesk support from his previous training & career working in the IT medical field. At Top Notch, he spends most days repairing computers, meeting with clients, and assisting end-users with desktop support issues. He also assembles more of our hand-built workstations & servers than any other tech. Broken computers, software issues, and viruses are all no match for this guy.
Emily
– Customer Service & Marketing
A Virginia native, Emily runs the help desk at our Richmond office and handles overflow from our very busy Charlottesville office. Her experience with marketing, sales, & customer service helps us keep the lights on and customers coming back again and again. Emily holds a degree in Biology from Duke University, and has spent time in construction management and sales before finding her home among this quirky crew!
Garnett
– Senior Engineer
A very qualified & accomplished hardware and network specialist, Garnett is often able to troubleshoot problems and implement solutions without ever leaving the office. For the hands-on jobs, Garnett travels to customer's sites to assess, troubleshoot, install, repair, upgrade and more. Complex problems are welcome challenges for Garnett-although one of our youngest team members, he is an asset to the staff when it comes to elevated troubleshooting matters. Garnett signed on with Top Notch immediately after obtaining his bachelor's degree from VCU and has been with us ever since.
John
– Installation & Electrical
An accomplished computer hardware specialist, low-voltage technician, logistics manager, and general handyman. John helps us fill a variety of internal and external needs. His cross-platform knowledge of technology, structured wiring, electrical, and construction allows us to oversee and complete large projects that other firms would partially outsource. We welcome his small-town approach to solving large-world problems. Customers have referred to him as "the most interesting person you will ever meet."
Landon
– Senior Engineer
15 years ago, Landon was the star offensive lineman for the UVA Cavaliers. Today, he is a well-rounded systems and network tech with a focus on cybersecurity and compliance. Network support, complex email systems, virtual environments, and cloud infrastructures are all within a day's work. After obtaining his degree from the University of Virginia, Landon spent a few years in corporate and government IT. With him comes a welcome perspective towards client relationships as we continue to grow and expand into new markets.
Marques
– Systems & Software Specialist
Marques filled a void by simply being able to accomplish a lot in a short amount of time. His experience stands out when it comes to the most cutting-edge technologies: cloud and virtualized environments are particular interests of his. His computer troubleshooting and people skills are also spot-on. Marques is a welcome resource to clients and staff alike.
Matt
– Systems & Software Specialist
Prior to his debut at Top Notch, Matt had worked in retail tech support for years. Our most recent addition to the team, Matt has hit the ground running-it's become clear that he is a "sponge" for IT know-how. We have found that Matt is well-versed in hardware and networking and now works directly with commercial clients to address issues and produce results.
McKayLenn
– Chief Financial Officer
Tech-savvy accountants are hard to come by. In addition to keeping our finances in check, McKaylenn can often assist clients with internal accounting software matters in addition to maintaining the software's IT platform. A fully-trained tech specialist, she oversees day-to-day operations around our main office.
Samantha
– Corporate & Medical Services
Sam started out at Top Notch at the front desk after obtaining her degree from Virginia Tech. Her love for technology and knack for fixing things has now brought her to pursue a more serious career working with machines and assisting clients all day long. A very well-rounded tech, Sam is great at everything from repairs to medical imaging devices to commercial email setups. She's also great at training clients on how to use their equipment.
Sean
– Manager, Internal Operations
Sean has been fascinated with computers, networking, and technology from a young age. For the better part of a decade, Sean was considered one of the strongest VoIP, telephony, and structured wiring techs in our region. Without him, our award-winning trademarked phone system could have never taken off. Today, Sean maintains our internal equipment and runs the elevated help desk for clients and field techs. He is also proficient and highly-trained on virtual computing infrastructure, advanced networking and routing, VPNs, and most of what we do day in and day out.
Thomas
– Senior Engineer
A valued asset to the team, Thomas has a broad and comprehensive knowledge of all our clients. Before his career at Top Notch, Thomas had worked in both academic and retail tech support, as well as a self-employed IT contractor. With his experience comes a unique perspective towards customer service-clients really love working with him. Thomas also holds a degree in InfoSys, which means he really knows his way around modern networks.
Will
– Manager, Customer Experience
Boasting one of the most qualified backgrounds of the area's IT personnel, Will brings efficiency, professionalism, and cybersecurity to a whole new level. Tasked with overseeing our general workflow and ensuring customer satisfaction, Will is also a very impressive systems engineer. Servers, commercial email systems, networking appliances, and cloud infrastructure are among his many specialties. Will completed his B.S. in C.I.S. from ODU, then worked IT for our armed forces before finally moving to the medical field and then Top Notch.